Types of Braces
Self-Ligating Braces
At Mitchell, Bartlett & Bell Orthodontics, we're not just about straightening teeth. We're about helping you achieve the smile of your dreams in the most comfortable and efficient way possible. That's why we're thrilled to offer our patients the revolutionary Damon braces.
Damon Smile — More Than Just Braces
Unlike traditional braces, Damon braces use a unique slide mechanism to hold the archwire. This reduces the pressure on your teeth, allowing them to move more freely, quickly, and comfortably. The result? Your journey to a perfect smile is faster and easier than you ever imagined!
With Damon Smile, we're stepping into a world without elastic ties. These tie-less braces reduce pressure on your teeth and require fewer adjustments. No more worrying about replacing elastics. It's all about making your orthodontic experience as smooth and hassle-free as possible.
But Damon Smile isn't just about innovative braces and wires — it's a whole new approach to treating our patients. By combining tie-less brackets and high-tech archwires, we minimize discomfort while creating stunning, lasting smiles.
The Benefits of Damon Braces
Damon Technology — Say goodbye to elastic or metal "ties." With Damon braces, your treatment proceeds smoothly without tightening.
Comfort — Despite working quickly, Damon braces use gentle, low-friction force, ensuring your comfort throughout the treatment.
Convenience — Damon braces are designed to be discreet, comfortable, and easy to keep clean. Without the elastic ties that collect plaque, dental hygiene during treatment is a breeze. And for those who want a great smile without compromising aesthetics, Damon Smile is available in clear brackets.
Treatment Time — While treatment time varies from person to person, Damon braces typically work faster than conventional braces. Plus, fewer appointments are needed during treatment, making your journey to a perfect smile even more convenient.
Damon Clear Braces
At Mitchell, Bartlett & Bell Orthodontics, we're all about embracing the latest advancements to make your journey to a perfect smile as smooth and enjoyable as possible. That's why we're thrilled to offer Damon Clear braces, a breakthrough in orthodontic technology that combines high performance with an almost invisible appearance.
Damon Clear braces are a true game-changer. As a part of the innovative Damon System, these braces use a unique slide mechanism to hold the archwire. This allows your teeth to move more freely and comfortably, reducing treatment time and visits to our office. But that's not all. The clear brackets blend seamlessly with your natural teeth, making them a discreet choice for patients of all ages. With Damon Clear braces, you don't have to choose between effectiveness and aesthetics — you get the best of both worlds.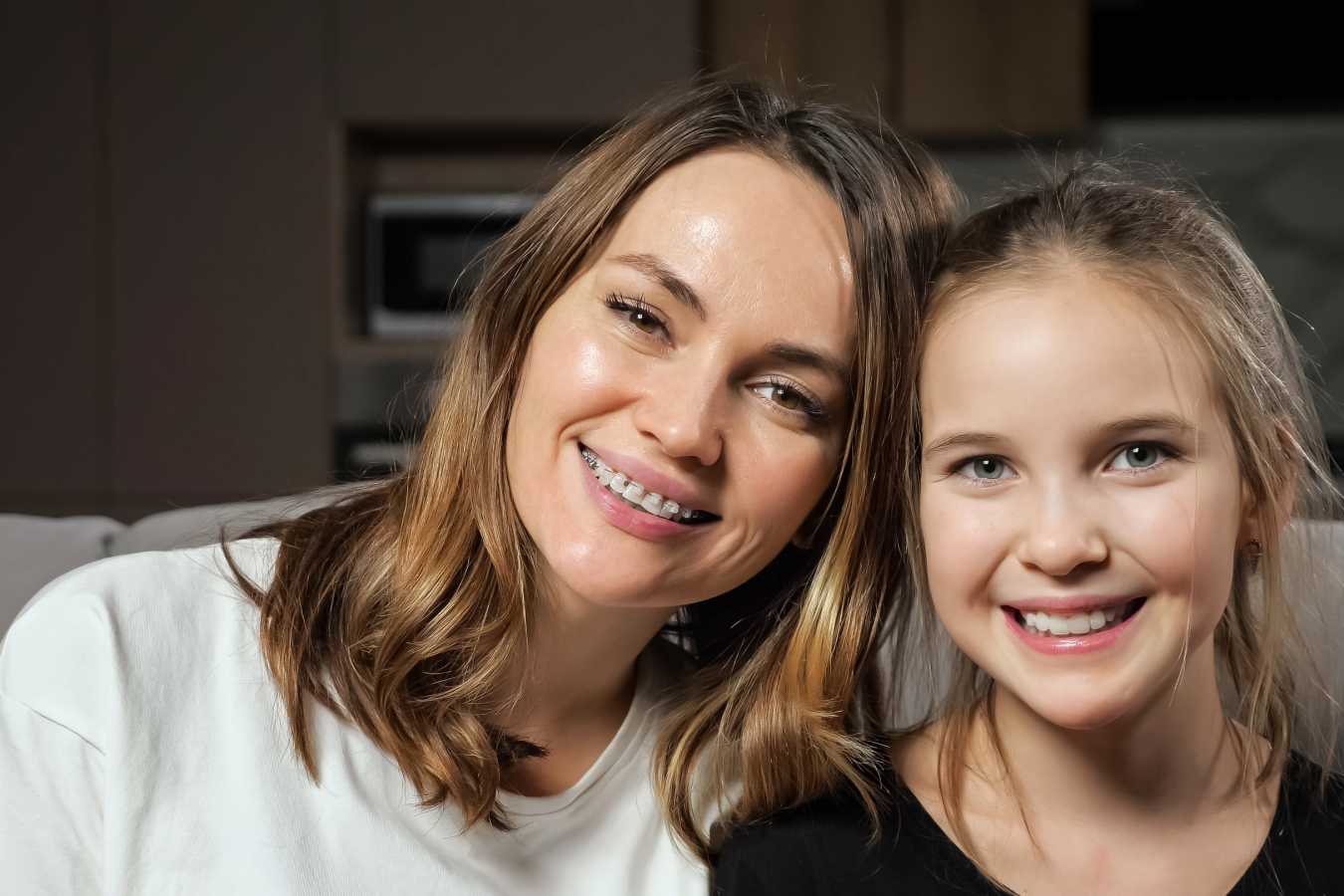 Traditional Metal
At Mitchell, Bartlett & Bell Orthodontics, we understand that every smile is unique and so are the orthodontic needs of each patient. While we love showcasing our cutting-edge solutions like Damon Clear braces, we also value the tried-and-tested effectiveness of traditional braces.
Understanding Traditional Braces
When you think of braces, the image that likely comes to mind is that of traditional metal braces. These consist of standard metal brackets that are adhered to your teeth and connected by wire. The wires are threaded through the brackets and tightened periodically to gradually move your teeth into the desired position.
Despite advancements in orthodontic technology, traditional braces remain a popular and reliable choice for many patients. They have proven their worth time and again in effectively correcting various dental issues and helping individuals achieve their perfect smile.
At Mitchell, Bartlett & Bell Orthodontics, we're proud to offer both modern and time-tested solutions to cater to our patients' diverse needs. Whether you choose traditional braces or a more modern option like Damon Clear braces, we're here to guide you on your journey to a healthier, more confident smile.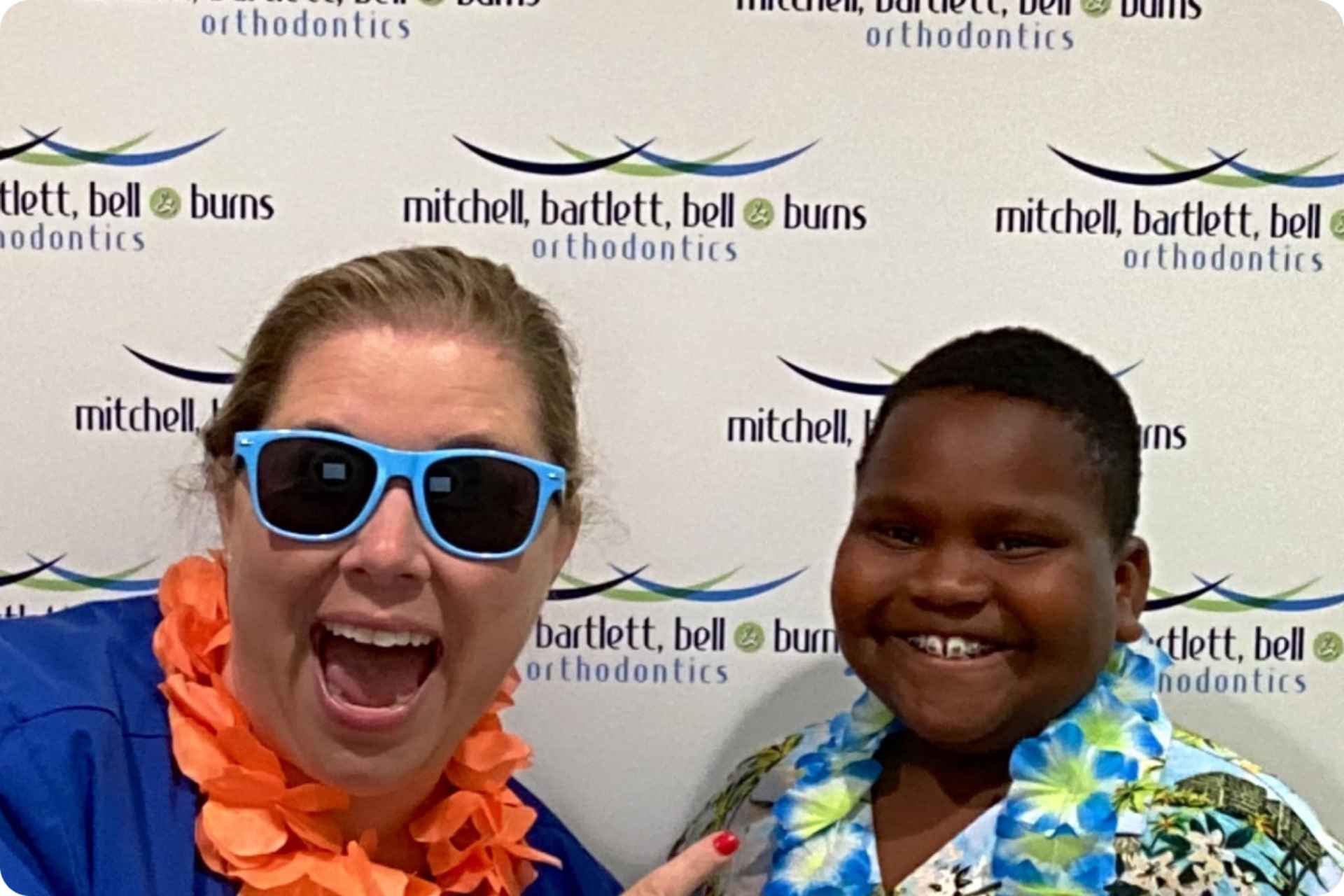 Braces For Kids
As children grow and develop, so do their teeth. And sometimes, those teeth need a little extra help to grow straight and aligned. That's where braces come in.
Braces are an effective orthodontic treatment that can correct a variety of dental issues in children. They work by applying gentle pressure over time to slowly move teeth into the desired position.
For kids, getting braces is more than just achieving a beautiful smile. It can also improve oral health by making it easier to clean between teeth, preventing gum disease, tooth decay, and even potential issues with speech or eating.
Early Orthodontics
But when is the right time for your child to get braces? The American Association of Orthodontists recommends that children get their first check-up with an orthodontist no later than age seven. At this age, they have a mix of baby teeth and adult teeth, which makes it easier for the orthodontist to diagnose and correct tooth and jaw problems early on.
Starting orthodontic treatment early can offer some great benefits. We can guide your child's jaw growth, helping their permanent teeth come in straight. We can also adjust the width of their upper and lower arches, create more room for crowded teeth, and curb habits like thumb sucking that might impact their oral development.
We understand that as a parent, knowing if your child needs orthodontic treatment isn't always clear-cut. Here are a few signs that your child might need to see an orthodontist:
Losing baby teeth either too early or too late
Struggling with biting or chewing food
Breathing through the mouth
Persistent thumb or finger sucking
Teeth that are crowded, misplaced, or blocked
Jaws that pop or make sounds when opening and closing
Teeth that meet abnormally, or don't meet at all
Jaws and teeth that seem out of proportion with the rest of the face
Front teeth that are crowded around age seven or eight
If any of these signs ring a bell, or even if you just want to ensure your child's teeth are developing properly, feel free to reach out to us. Schedule an appointment for an orthodontic evaluation today. Remember, taking action now can set the stage for your child's future vibrant and beautiful smile.
At Mitchell, Bartlett & Bell Orthodontics, we understand that every child's dental needs are unique. We'll work with you and your child to determine the best treatment plan for them, ensuring they're comfortable and confident throughout their orthodontic journey.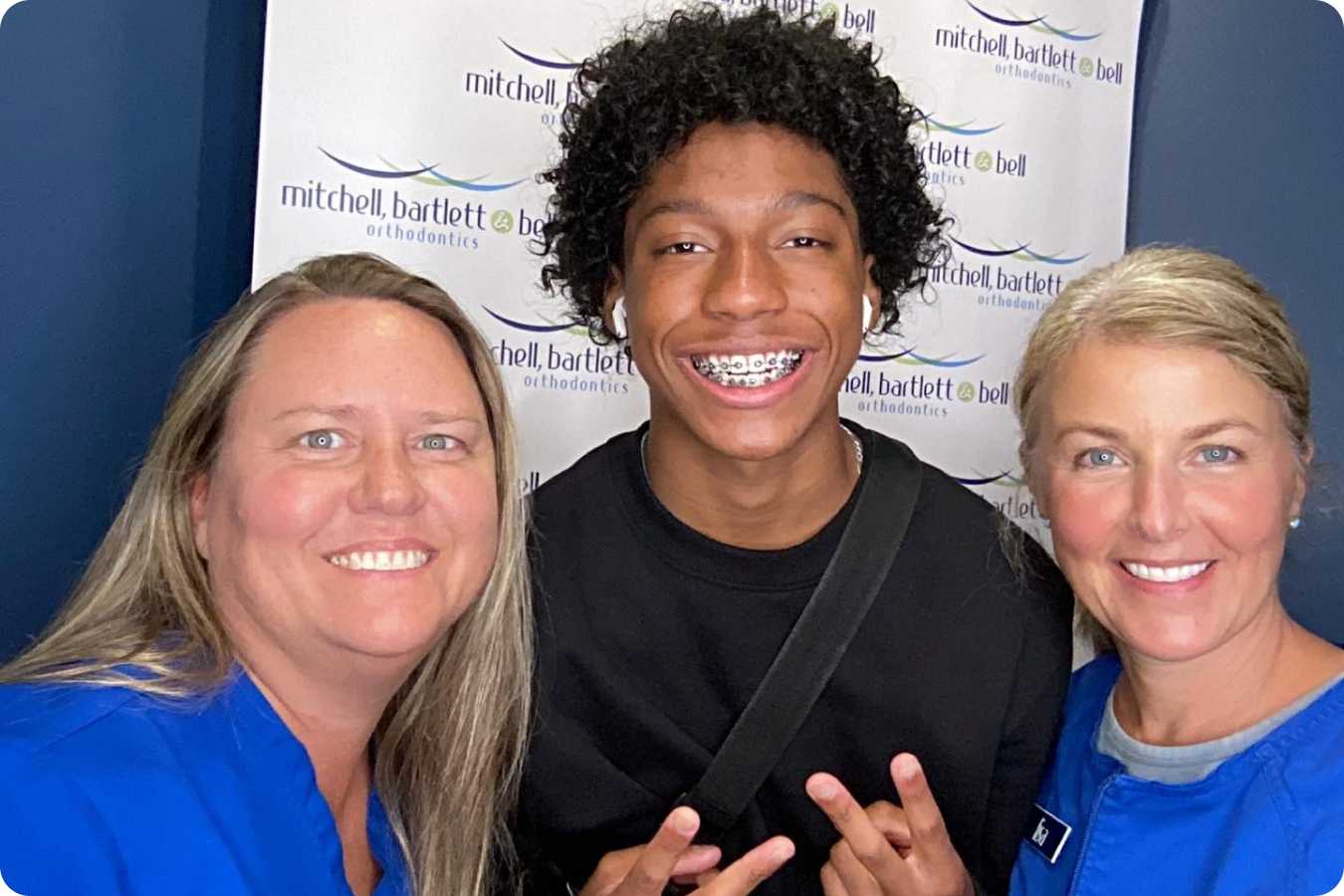 Braces For Teens
At Mitchell, Bartlett & Bell Orthodontics, we know that navigating your teenage years can be a roller coaster ride. And if you're here, it probably means you're considering adding braces to the mix. But don't worry, we'll make sure your braces journey is as smooth and worry-free as possible.
Braces are not just about creating picture-perfect smiles (although that's a pretty cool side effect!). They're about setting the stage for a lifetime of good oral health. Braces can correct overcrowded or crooked teeth, fix misaligned bites, and make it easier to clean between teeth. This helps prevent future dental problems like gum disease and tooth decay.
The Right Time for Braces
While there's no set age for teens to get braces, most orthodontists recommend starting treatment between the ages of 11 and 14. This is when most of your permanent teeth have come in, but your jaw and facial bones are still growing, making it an ideal time for orthodontic treatment.
The amount of time it takes to treat your smile with braces depends on three key factors:
Early Treatment — Early treatment allows orthodontists to monitor the growth of the jaw and recommend further orthodontic treatment if it becomes necessary. Not everybody receives early orthodontic treatment; in some cases, it may be recommended that a patient wait to receive treatment.
What Needs Correction — The amount of treatment needed to correct a problem will determine how long the process takes. Different patients react to treatments differently. While it may take one patient only 12 months to complete treatment, it may take another patient 24 months. Treatment times can vary depending on how quickly your body responds and how much work is needed to give you the show-stopping smile you expect.
You — Your willingness to use the appliances your orthodontist gives you plays a major role in the length of time it takes to complete your treatment. Always remember to take care of your braces and appliances; this truly will help make your treatment shorter.
Getting braces as a teen might seem daunting, but it's also an opportunity to embrace your unique journey towards a healthier, happier smile. Remember, braces are temporary, but the confidence and oral health benefits they provide will last a lifetime.
At Mitchell, Bartlett & Bell Orthodontics, we're here to guide you every step of the way. So, ready to start your smile journey with us? Contact our team today to request a free consultation!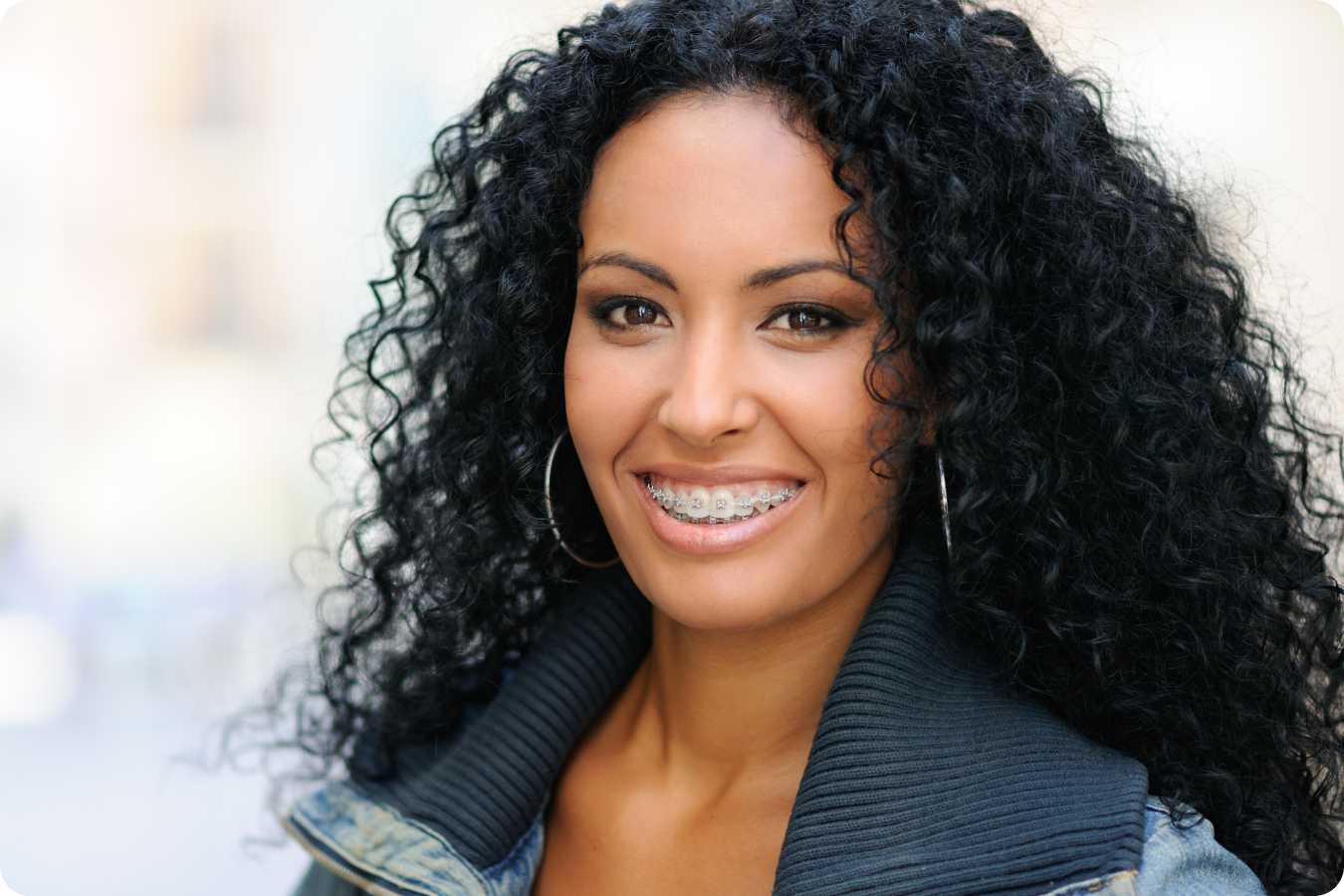 Braces For Adults
Orthodontic treatment isn't just for teens, you know! We see more and more adults stepping into our office at Mitchell, Bartlett & Bell Orthodontics, ready to take charge of their oral health and boost their confidence. In fact, the American Association of Orthodontists reports that one in five orthodontic patients is over 21.
Why are adults seeking orthodontic treatment? There are several reasons:
Incorrect bite or malocclusion causes teeth to not fit together properly
Teeth that are crowded or spaced apart could lead to tooth decay or gum disease
Jaw pain or pressure caused by misaligned teeth
The wish for a healthier mouth and a more self-assured smile
Adult Orthodontics vs. Children & Teen Orthodontics
The primary difference between adult orthodontics and children and teen orthodontics lies in the growth stage of the jawbones. In adults, jawbones have stopped growing, which may require orthognathic surgery to align the jawbones correctly.
Other differences include:
Gum Or Bone Loss (Periodontal Disease) — Adults are more likely to experience gum recession or bone loss due to periodontal disease. Having straighter teeth can help reduce this risk.
Worn Or Missing Teeth — Over time, teeth can wear down and shift, requiring orthodontic care. Missing teeth can cause other teeth to tilt and shift, leading to a bad bite and an increased risk of gum disease.
Incomplete Orthodontic Treatment As A Teen — Many adults started orthodontic treatment when they were younger but didn't complete it. Now they're ready to finish their orthodontic journey and achieve that healthy, stunning smile they've always wanted.
At Mitchell, Bartlett & Bell Orthodontics, we understand that adults and children have different needs and require different levels of attention and care. We promise to work with you to ensure you receive the most appropriate treatments in a comfortable and respectful environment.
Why Should You Consider Orthodontic Treatment?
Healthy Teeth — Well-aligned teeth are easier to clean with flossing and brushing, which can prevent other health complications.
Confidence Boost — A beautiful, straight smile can enhance your self-confidence, improving your quality of life and allowing you to smile freely.
Preventing Further Issues — Neglecting necessary orthodontic treatment can lead to long-term health problems that may cost you more down the line.
Interested in learning more about the benefits of adult orthodontics? Please contact our practice to request a consultation. We know you have a busy schedule, and we'll work with you to make each office visit as convenient as possible. Start your journey towards a healthier, more confident smile with us today!